If I could be a rockstar I would be: Beyonce

A computer engineer by degree, Mico Yuk has been designing and implementing enterprise dashboards since 2006 and is considered to be one of the industry's top dashboard developers in the world. (Her love for Amel Larrieux and other R&B artists is also well known.)

In addition, Mico is a 2010 SAP mentor and founder of the popular Weblog, EverythingXcelsius.com and the Xcelsius Gurus Network. She serves as part owner in the services end of Everything Xcelsius, where she manages more than 10 Xcelsius/BOE consultants – building rockstar dashboards for clients such as Pfizer, VISA, Medtronics, US Airforce and many more. You'll find some of her greatest hits featured on the main SAP Web site for Xcelsius software, and The Xcelsius Gurus' LinkedIn group and Twitter profile are also used and featured on the SAP BusinessObjects Xcelsius home page, due to growing popularity.

Like any reporting icon, it isn't hard to find Mico's influence on the industry. She's been featured in a BOC CommunityPROFILE, nominated as a 2010 SAP mentor, conducted the 2008 number one Webinar for the SAP BusinessObjects network alongside fellow Xcelsius Guru, Ryan Goodman of Centigon Solutions, and presented at conferences such as the 2009 Global Business Objects conference and SAPPHIRE 2010 to packed houses. Mico has also been invited to do numerous keynote speeches, webinars, and other highly visible events in 2010.
INSTRUMENTS OF CHOICE
SAP Crystal Reports Dashboard Design package displays your business data in a visually engaging way – so you can answer operational and planning questions at-a-glance.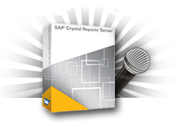 BECOME A FAN
Follow SAP Crystal solutions on: