If I had a band, I would name it:
"Fuskie Island Fantasy"


David Deitch is one of industry's most prolific reporting artists, having delivered nearly 1,000 diverse reporting solutions over the past decade.

During his career, he has demonstrated his chops as a skilled networking engineer, applications manager, business analyst, database administrator, customer support specialist and trainer, technical writer, blogger, podcaster, twitterer, and dreamer – all of which help him better understand how people and businesses use SAP Crystal Reports.

This avid Caribbean/beach rock enthusiast served as president of the Atlanta chapter of the Network Professionals Association and is a moderator of the SAP Crystal Reports Users Group and SAP Crystal Users groups on Yahoo. David is the founder of the SAP Crystal Reports and SAP Crystal Reports Professionals of Atlanta groups on LinkedIn. His focus on professional networking reflects his goal of bringing the Crystal Reports community together. David's design influences run the gamut from Jimmy Buffett to Cirque du Soleil to Disney/Pixar to the Atlanta Braves and Thrashers.
INSTRUMENTS OF CHOICE
SAP Crystal Reports Dashboard Design package displays your business data in a visually engaging way – so you can answer operational and planning questions at-a-glance.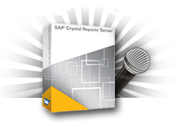 BECOME A FAN
Follow SAP Crystal solutions on: