SAP Crystal Reports Server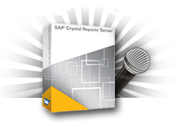 SAP Crystal
Reports Server
Securely share, schedule, and deliver reports.
SAP Crystal Reports Server can do it all – without any of the hidden costs. Try our complete report and dashboard management solution to discover how you can:

Keep IT simple by accessing reports and dashboards from a single server.

Create fewer actual reports, yet personalize them and deliver to thousands.

Make the most of the tools you already use, including popular data sources and applications.

Monitor activity to see who's accessing which reports and when you're reaching licensing limits.

With SAP Crystal Reports Server, you can do all this and more for less. Purchase our simple tools without a large upfront investment – then scale as your business grows.


"BUSINESS INTELLIGENCE JUST GOT SMARTER FOR SMBS"
BECOME A FAN
Follow SAP Crystal solutions on: